"...nature has its own beauty which constantly changes and is hard to pin down, so I use my imagination to produce my own version..." Sarah Porter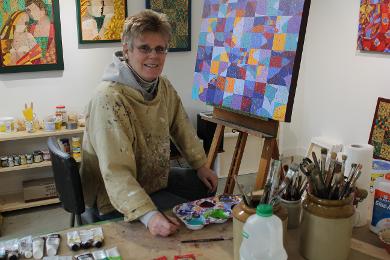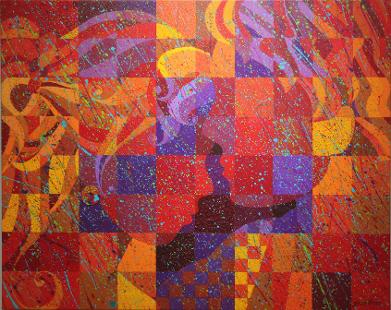 Introduction
Born in England, Sarah is a graduate in Fine Arts with honours from Sunderland College of Art and Goldsmiths College, University of London. She taught painting and ceramics for two years before emigrating to Canada.
Sarah worked as a graphic designer and illustrator in Montreal until 1990. She then shared her time between Quebec, British Columbia and Arizona when she resumed her painting career and travelled extensively on the North American continent, specifically western Canada and the south west United States.
In 1994, Sarah returned to England for several years and became involved with a London based group of Artists - Five Women Artists Plus. She exhibited regularly with them and took part in other group and solo shows. Travels in Central America, Africa, Yemen, Nepal, Bhutan and Tibet have provided the inspiration for her richly coloured paintings, incorporating symbolic references. Her love of textiles is reflected in the results. Sarah combined her painting career with teaching and taught fine arts on a regular basis in further education.
Early in 2007, Sarah came back to live in Canada and is now living in Lac-Brome, Quebec where she is continuing to paint full time. She is working with acrylics, mixed media and, occasionally, objects from the hardware store.

© Copyright Sarah Porter. All rights reserved. Any reproduction of content or works on this site, in whole or in part, is strictly prohibited without the written authorisation of the artist.